Jeff Pitkin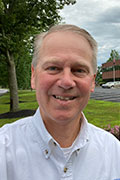 Jeff Pitkin is recently retired from his role as Treasurer (Chief Financial Officer) of the New York State Energy Research and Development Authority (NYSERDA), a position he held from 2001 to 2021, and previously served as NYSERDA's Controller and Assistant Treasurer.
In his role as Treasurer, Mr. Pitkin was responsible for ensuring the timeliness and accuracy of internal and external financial reporting; supporting organizational transparency, accountability, and stewardship; and ensuring effective policies and practices for personnel, information technology, information security, contract management, operational transformation and LEAN, and facility management to support NYSERDA's objectives. He was also responsible for prudently investing NYSERDA's funds and for issuing bonds on behalf of New York State's investor-owned utilities to finance costs eligible for tax-exempt bond financing and bonds to securitize consumer loans issued through the Green Jobs – Green New York program, and served as the Board-appointed internal control officer. He was also actively involved in the formation of NY Green Bank and its operating processes, served on its Investment and Risk Committee, and actively participated in its first portfolio monetization transaction.
Previously, Mr. Pitkin was Controller for Trans World Music Corporation and was a Senior Accountant for Ernst & Young. He is a certified public accountant, and received a BBA in Accounting from Siena College.