Majora Carter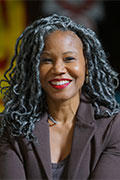 Majora Carter is a real estate developer, urban revitalization strategy consultant, MacArthur Fellow and Peabody Award winning broadcaster. She is responsible for the creation and successful implementation of numerous economic developments; technology and green-infrastructure projects; policies; and job training and placement systems.
Ms. Carter applies her corporate consulting practice focused on talent-retention to reducing brain drain in American low-status communities. She has firsthand experience pioneering sustainable economic development in one of America's most storied low-status communities: the South Bronx.
In 2017, Ms. Carter launched the Boogie Down Grind, a Hip Hop themed specialty coffee and craft beer spot, and the first commercial "3rd Space" in the Hunts Point section of the South Bronx since the mid-1980s. This venture also provides a rare opportunity for local families to invest through SEC approved online investment platforms.
Her ability to shepherd projects through seemingly conflicted socio-economic currents has garnered Ms. Carter eight honorary PhDs and awards including: 100 Most Intriguing Entrepreneurs by Goldman Sachs, Silicon Alley 100 by Business Insider, Liberty Medal for Lifetime Achievement by News Corp, and other honors from the National Building Museum, International Interior Design Association, Center for American Progress. Ms. Carter was also featured in a TEDtalk (one of six to launch that site in 2006).
Ms. Carter has served on the boards of the US Green Building Council, Ceres, The Wilderness Society, and the Andrew Goodman Foundation.
Majora is also the author of Reclaiming Your Community: You Don't Have to Move Out of Your Neighborhood to Live in a Better One.