Pamela Flaherty
President & CEO, Citi Foundation and Director, Corporate Citizenship Citi (Retired)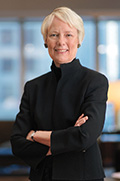 Pamela P. Flaherty is the former President and CEO of the Citi Foundation, and the Director of Corporate Citizenship at Citi. During Mrs. Flaherty's 46-year career at Citi, she held various line and staff roles, including Citicorp's Senior Human Resources Officer, and Director of Citi's New York Consumer Retail business.
As leader of Citi Foundation from 2007 to 2015, Mrs. Flaherty led a "more-than-philanthropy" approach to the foundation's work. This combination of financial support, employee engagement, and innovative grant structuring increased the long-term impact of the Citi Foundation's investments to promote economic development and progress for lower income families. This included signature programs in financial education and youth employment, investing in partners who are working directly with low- income households and communities. As head of the company's Corporate Citizenship efforts, she encouraged the development of activities where Citi's businesses can make a difference, including sustainability and the environment. In partnership with Citi's clients, Citi directed more than $54 billion towards renewable energy and clean technology exceeding its ten year goal two years early. Its new goal is to catalyze $100 billion in the next 10 years. Citi also reduced its greenhouse gas emissions from operations by 20 percent from a 2005 baseline.
She is the former Chair of the Board of Trustees of Johns Hopkins University, is on the board of Johns Hopkins Medicine and has been on the boards of several nonprofits, including Colonial Williamsburg Foundation and Living Cities. She is currently on the board of The Nature Conservancy Long Island Chapter and World Resources Institute. She is also a member of the Council on Foreign Affairs.
Mrs. Flaherty is an honors graduate of Smith College and holds a Masters in International Affairs from the Johns Hopkins Nitze School of Advanced International Studies.