Philip K. Ryan
Chairman, Swiss Re Americas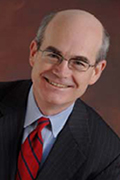 Philip K. Ryan joined the Board of Directors of Swiss Re America Holding Corporation in May 2010, and was elected Chairman of the Board effective October 2012. In this capacity, he is involved with Swiss Re's strategic priorities in the Americas. Mr. Ryan is also an Executive in Residence at NYU Stern School of Business.
Prior to Swiss Re, Mr. Ryan was Chief Financial Officer of the Power Corporation of Canada from January 2008 until May 2012. Power is a diversified holding company with interests in life insurance, wealth management and asset management. In that position, Mr. Ryan was also a director of IGM Financial, Great-West Lifeco and several of their subsidiaries, including Putnam Investments.
From 1985 until 2008, Mr. Ryan held various positions with Credit Suisse, a global financial services Company domiciled in Switzerland, including Chairman of the Financial Institutions Group (UK), Chief Financial Officer of Credit Suisse Group (Switzerland), Chief Financial Officer of Credit Suisse Asset Management (UK), and Managing Director of CSFB Financial Institutions Group (USA/UK).
Mr. Ryan is involved in a number of charitable activities including the Smithsonian National Board. Mr. Ryan has been active in advocacy for a sustainable environment and renewable energy for some time including through this role at Swiss Re and the Smithsonian Institute. Additionally, he is an active investor in solar power solutions, smart city and other sustainability opportunities.
Mr. Ryan earned a Master of Business Administration degree from the Indiana University Kelley School of Graduate Business and a Bachelor of Industrial Engineering at the University of Illinois.