Alexandra Carruthers, Associate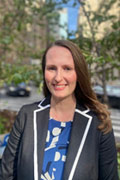 Alexandra Carruthers is an Associate on NY Green Bank's Strategy & Communications team, where she supports the organization's strategic priority development and implementation, as well as a broad range of reporting, market analysis, and stakeholder management activities.
Prior to joining NY Green Bank full time, Ms. Carruthers was a Summer Associate on the team and worked to evaluate ESG best practices for implementation and support impact measurement efforts. While pursuing her Master of Public Administration, she also completed internships with the World Bank and the Columbia Center on Sustainable Investment. In both cases, her research focused on recommending methods and building frameworks to influence private sector investors to incorporate climate and biodiversity considerations in their decision making.
Previously, Ms. Carruthers worked at a leading Canadian pension plan in a variety of roles supporting a view of risk across the $100B+ portfolio of infrastructure, real estate, private equity, and capital market investments.
Ms. Carruthers holds a Bachelor of Arts (Honours) degree in Economics from Queen's University in Canada, and a Master of Public Administration degree from Columbia University.