Andrew Kessler, President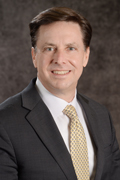 Andrew Kessler assumed the position of President of NY Green Bank in February 2021 having served the past two years as Managing Director and Co-Head of Investment & Portfolio Management at NY Green Bank. Mr. Kessler is an industry leader in clean energy investing, bringing over 25 years of extensive experience in banking and finance to NY Green Bank. As president, Mr. Kessler oversees partnerships with private sector capital providers and other clean energy market participants to address barriers that limit private investment into attractive renewable energy and energy efficiency projects.
Prior to joining NY Green Bank, Mr. Kessler founded and led the Biogas, Waste & Recycling Advisory group at the Danish Trade Council based in Washington, D.C. He also served as Co-Head of the Danish Trade Council's North America Energy & Environment Group. In 2010, Mr. Kessler founded Turning Earth, an integrated organics recycling company focused on converting organic waste streams into biogas and other beneficial resources. Prior to launching Turning Earth, Mr. Kessler spent 15 years as an investment banker holding senior positions as a corporate finance and mergers & acquisitions professional at various firms including HSBC, Waller Capital, Morgan Stanley, and Duff & Phelps. He has executed equity, debt, and M&A transactions across a diverse set of sectors and markets and has served in numerous corporate governance leadership roles.
Mr. Kessler has written and lectured on waste, recycling, biogas, and related renewable energy topics and regularly speaks at industry forums and conferences. He served on the Board of Directors of the U.S. Composting Council from 2010 to 2012 and was elected to its Executive Committee as Vice President and Treasurer, respectively.
Mr. Kessler earned a bachelor's degree in Economics from the University of Virginia and a Master of Business Administration at New York University's Stern School of Business.