Andrew Schons, Associate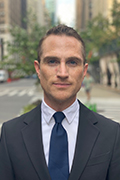 Andrew Schons is an Associate with NY Green Bank's Finance and Operations team, where he supports the organization in operational strategy, financial planning and analysis, financial reporting, and fund administration.

Prior to joining NY Green Bank, Mr. Schons worked in fiscal operations with New York University's Wagner Graduate School of Public Service, helping the school develop financial models and forecasts, implement and monitor restricted and discretionary budgets, and streamline its operational processes. During this time, Mr. Schons also worked on NYU's Impact Investment Fund to source and screen potential impact investments, and served as a consultant to a Costa Rican national bank providing recommendations on their lending policies and impact measurement and management systems.

As a consultant and intern with the United Nations, Mr. Schons conducted high-level research on UN Common System administrative policies and offered recommendations on research project methodologies. Originally from Minnesota, he also held several positions in state government, including roles administering and developing Minnesota's public financial disclosure programs, and served on the Board of Directors and Executive Committee of the United Nations Association of Minnesota.

Mr. Schons holds an MPA in Finance from New York University, a MSc in Political Science from Sweden's Uppsala University, and a BS in Ethnic Studies from Minnesota State University.