Angela Oei, Associate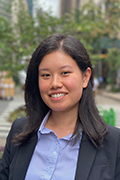 Angela Oei is an Associate on NY Green Bank's Finance and Operations team, where she supports the bank's activities including operational strategy, financial planning and analysis, fund administration, financial reporting, and contract management.
Prior to joining NY Green Bank, Ms. Oei worked in Revenue and Claims at the NYC Department of Environmental Protection for two years. There, she helped oversee the budget and secure funding for water infrastructure capital projects.
Ms. Oei holds a bachelor's degree in economics from the City College of New York.