Anna Lulgjuraj, Associate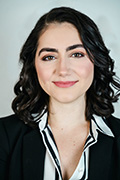 Anna Lulgjuraj is an Associate on NY Green Bank's Investment Administration and Portfolio Support team, where she supports NY Green Bank's portfolio management processes, including investment monitoring and funding.
Prior to joining NY Green Bank, Ms. Lulgjuraj worked as a Team Lead on the Product and Research Team at Street Diligence, Inc., a contract intelligence startup. At Street Diligence, she analyzed and extracted important covenant terms, deal metrics and LIBOR transition language for both publicly and privately issued high-yield credit agreements and indentures. Ms. Lulgjuraj also provided data and analytical work on product development for new document types. In addition, she managed numerous client portfolios by creating detailed cross-functional output reports including goals, priorities, deadlines, deliverables, status, and CSA capacity data.
Ms. Lulgjuraj holds a Bachelor of Arts degree in Interdisciplinary Mathematics and Economics from Fordham University.