Bella Shealy, Analyst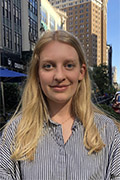 Bella Shealy is an Analyst on NY Green Bank's Investment Administration and Portfolio Support team, where she supports NY Green Bank's portfolio management processes, including investment monitoring and funding.
Prior to joining NY Green Bank, Ms. Shealy worked as the Operations Lead at Singularity Energy—an early-stage carbon tracing startup—where she worked on business model development, market research, and helped raise a $500k pre-seed round. Prior to Singularity, Ms. Shealy worked as a Summer Fellow at the Ad Hoc Group, a climate tech consultancy. At Ad Hoc, she conducted regulatory research to inform client go-to-market strategy and launched the firm's first newsletter. In college, Ms. Shealy interned for a year on the sales and marketing team at Dandelion Energy, a home-geothermal startup based in New York.
While at Barnard, Ms. Shealy served as one a student representative on the Sustainable Practices Committee, where she contributed to high-level sustainability decision making for the College. Ms. Shealy also spearheaded Green3, a beta project aimed at reducing Scope-3 emissions campus-wide. Ms. Shealy holds a Bachelor of Arts degree in Political Science with minors in East Asian Studies and Leadership Studies.