Beverly Martin, Administrator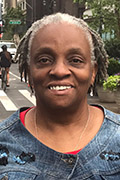 Beverly Martin is an Administrator at NY Green Bank, where she provides administrative support to the Investment Administration & Portfolio Support team. Ms. Martin has over 25 years' experience working in an office environment. She thrives on having excellent organizational, execution and communication skills.
Ms. Martin worked for NY Green Bank as a Contractor for the past 3 years until recently joining the team on a permanent basis as of June 2021. She attended Borough of Manhattan Community College where she studied Business Management/Office Automation Administration and Operations.