Clara Grantier, Analyst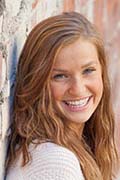 Clara Grantier is an Analyst on NY Green Bank's Investment & Portfolio Management team, where she leads the full integration of business development activities across the organization.
Prior to joining NY Green Bank, Ms. Grantier interned at the U.S. Department of Energy's Office of Energy Efficiency and Renewable Energy, where she supported the implementation of clean energy programs for low-income communities around the country. She later interned at Con Edison Clean Energy Businesses, where she assisted in the development of community solar and battery storage projects and worked to maximize battery storage revenues through market participation.
While at the University of Pittsburgh, Ms. Grantier worked with Sodexo to build out a reusable container program for takeout dining on campus and supported the university's utility contract negotiations through her role on the facilities management team. Ms. Grantier holds a Bachelor of Arts in Environmental Studies with a minor in Economics.