Dinush Kurera, Vice President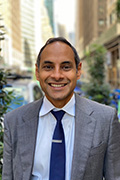 Dinush Kurera is a Vice President on NY Green Bank's Investment and Portfolio Management team, which focuses on sourcing, structuring, and executing clean energy project investments.
Prior to NY Green Bank, he spent seven years at Rest, an A$60 billion Australian pension fund, where he managed all aspects of the internal debt infrastructure portfolio including originating opportunities, negotiating terms, conducting due diligence, managing the credit process, presenting to the investment committee, and performing quarterly valuations. During his time at Rest, he was involved in opportunities across infrastructure asset classes including toll roads, airports, pipelines, ports, REITs, public-private partnerships etc. Prior to Rest, Dinush worked in finance- and engineering-related roles at National Australia Bank, Goldman Sachs, and Booz Allen Hamilton. Dinush started his career as a Research Scientist at NASA.
Dinush graduated from the University of Melbourne with a double degree in Environmental Engineering and Mathematics, Duke University with a MBA, and Johns Hopkins University with a Masters of Engineering.