Emma Bankier, Analyst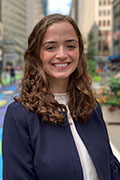 Emma Bankier is an Analyst on NY Green Bank's Operations & Finance team, where she supports a variety of business as usual and special project activities in the areas of finance, strategy and planning, impact and performance, and general operations, including related analysis and reporting.

Prior to joining NY Green Bank, Ms. Bankier interned for GreenMax Capital Advisors, an international clean energy investment advisory and management consulting firm in New York. There she worked on a contract by the ECOWAS Center for Renewable Energy and Energy Efficiency to assess 19 markets across West Africa to develop regulatory and financial frameworks to promote stand-alone solar technologies.

While at Cornell University, Ms. Bankier conducted climate science and policy research with the Cornell Institute for Climate Smart Solutions to help farmers in New York identify on-farm vulnerabilities to extreme weather, and to promote energy efficiency solutions across the agricultural sector. In 2017, Ms. Bankier was selected to represent Cornell as a delegate to the United Nations Framework Convention on Climate Change where she participated in panels and discussions on upholding the Paris Agreement and international climate change policy.