Jean Carbone, Office Manager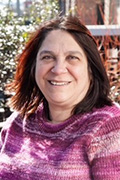 Jean Carbone is the Office Manager at NY Green Bank, where she oversees day-to-day activities. She works closely with internal and external shareholders to ensure office operations run smoothly.
Ms. Carbone's background is in administration for property management and construction, working on both New York-based and nationwide projects. Previous projects include working as a client of NYSERDA to install cogeneration plants in residential buildings in New York City, allowing buildings to generate their own power.
Ms. Carbone holds a bachelor's degree from New York City College of Technology and a master's degree from Fairleigh Dickinson University.