Kelsey Clair, Vice President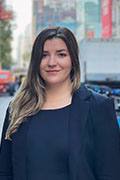 Kelsey Clair is a Vice President and Lead Transactor on NY Green Bank's Investment & Portfolio Management team, where she sources, structures, and executes clean energy project investments across New York State.
Prior to joining NY Green Bank, Miss Clair worked as a Lead Transactor and Portfolio Manager at MUFG Bank, where she focused on commodity finance and midstream energy finance. She started her career as a credit analyst at JPMorgan Chase.
Miss Clair holds a bachelor's degree in Finance from Fordham University and is an Executive MBA candidate at Columbia University. She is also an Executive Committee Member for CAIA NY.