Konstantin Driker, Managing Director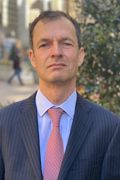 Konstantin Driker is a Managing Director at NY Green Bank on the Investment and Portfolio Management Team. He is responsible for investing in renewable and clean energy projects in the State of New York and manages a portfolio of investments across various asset classes.
Konstantin has more than 20 years of experience in corporate finance and capital markets. Prior to joining NY Green Bank, Konstantin served as a managing director in the investment banking arm of DVB Bank where he ran a private placement effort focused on capital raising for transportation and energy clients globally. Previously, Konstantin was a founding member of the high yield group at BNP Paribas where he originated, structured and executed leveraged finance transactions in the U.S. and Europe.
Konstantin graduated with a degree in chemistry from the Ural State University and holds an MBA in finance and accounting from Georgia Institute of Technology.