Lindsay Drogin, Director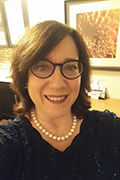 Lindsay Drogin is a Director and the Head of NY Green Bank's Investment Administration and Portfolio group where she supports the execution of new business and the monitoring of the existing portfolio.

Prior to joining NY Green Bank, Ms. Drogin served as an investment banker (FINRA Series 79 & 63 licenses) at Sumitomo Mitsui Banking Corporation where she focused on the origination and execution of high yield and structured finance transactions across industries including the infrastructure and energy sectors while maintaining a portfolio of leveraged loans. During the four years before joining NY Green Bank, Ms. Drogin also focused on extensive mentoring of early stage companies in various cleantech verticals such as waste, water and clean energy and encouraged the development of programs that serve such companies.

Ms. Drogin earned a Master of Business Administration degree in Finance from New York University's Stern School of Business, a bachelor's degree in Economics from Queens College of the City University of New York and a Professional Certificate in Energy Finance from New York University where she discovered a passion for clean energy and sustainable infrastructure.