Mac Thayer, Vice President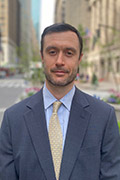 Mac Thayer is a Vice President on the Investment Administration and Portfolio Support team at NY Green Bank, where he supports the execution of new business and the monitoring of the existing portfolio.

Prior to joining NY Green Bank, Mr. Thayer was Executive Director of NYC Neighborhood Capital Corporation, a federally certified 501(c)3 Community Development Entity affiliate of the New York City Economic Development Corporation (NYCEDC). As Executive Director, Mr. Thayer led the organization's first $125MM of investments in low-income community development projects in New York City. Previously, Mr. Thayer was an Assistant Vice President in the Strategic Investments Group at the NYCEDC, where he provided financial incentives including real property tax abatements and tax-exempt debt financing for over $2B in economic development projects. Mr. Thayer began his career as an Asset Manager at real estate investment firm CityScape Capital Group, where he managed a $400MM portfolio of US real estate assets.

Mr. Thayer earned a bachelor's degree in Economics from Tulane University and a Master of Business Administration at New York University's Stern School of Business.