Maximilian Heering, Vice President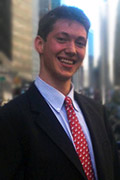 Maximilian Heering is a Vice President at NY Green Bank, where he supports the full range of investment activities, including transaction evaluation, due diligence and execution of scalable clean energy project investments across New York State.
Prior to joining NY Green Bank, Mr. Heering worked within Connecticut Green Bank's finance team, providing support in underwriting and market research for secured debt financings and credit enhancements. He participated in every phase of the deal process working on projects including solar PV, anaerobic digesters and energy efficiency, including C-PACE, with a particular focus on solar equipment lease and multifamily housing transactions.
Mr. Heering previously worked for a Stamford, CT-based private equity and advisory firm focused on scalable cleantech and low-carbon solutions. Mr. Heering holds a BA in environmental studies from Colgate University with a minor in economics. He also spent time studying land conservation and corporate marketing management at Albert Ludwigs University in Freiburg, Germany, and rapid economic development and its environmental effects at Yunnan University in Kunming, China.