Meagan Gates, Analyst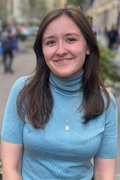 Meagan Gates is an Analyst on NY Green Bank's Investment and Portfolio Management team, where she supports the origination, evaluation, and execution of scalable clean energy and efficiency project investments across New York State.
Prior to joining NY Green Bank as a full-time analyst, Ms. Gates was a Summer Analyst on the investment team while pursuing her Environmental Science and Economics, B.S., supporting the diligence and execution activities for an energy efficient affordable housing transaction. Previously, she interned at the North Carolina Renewable Ocean Energy Program, where she researched the potential for marine hydrokinetic energy to support North Carolina's blue economy.
Ms. Gates holds a Bachelor of Science in Environmental Science and Economics from the University of North Carolina at Chapel Hill, where she focused on quantitative energy systems.