Michael Keppler, Analyst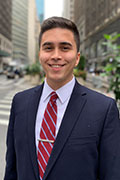 Michael Keppler is an Analyst on the Risk & Compliance team at NY Green Bank, where he supports the full range of risk assessment and compliance activities, particularly risk rating, due diligence assessment, and institutional compliance.
Prior to joining NY Green Bank, Mr. Keppler interned at the International Fund for Agricultural Development in Rome, Italy, performing economic research and analysis. He previously interned at the University of the Philippines Diliman, where he analysed landslide topographies and developed an improved computational traffic model. Prior to this, Mr. Keppler interned with various start-up companies in the Philippines that promoted solar technology and sustainable business practices in and for vulnerable communities.
While at Duke University, Mr. Keppler researched the socioeconomic impacts of electricity quality and access in northern India, and quantitatively analyzed the existence of gerrymandering in North Carolina. While at Reed College, Mr. Keppler researched the effect of FEMA flood insurance policies on foreclosures in Portland, Oregon. Mr. Keppler holds a Master of Environmental Management degree, with a focus on Environmental and Resource Economics, along with a graduate certificate in International Development Policy from Duke, and a Bachelor of Arts degree in Economics from Reed College.