Tibita Kaneene, Vice President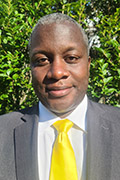 Tibita Kaneene is a Vice President and Lead Transactor on NY Green Bank's Investment and Portfolio Management team, where he sources, structures, and executes clean energy project investments.
Prior to joining NY Green Bank, Mr. Kaneene worked as an underwriter at Amalgamated Bank, where he focused on clean energy project finance and affordable housing. He also underwrote commercial and industrial loans at Apple Bank, and was an associate at Sovereign Investment Company, a real estate private equity fund, where he invested in commercial real estate. He started his career as an investment banking analyst at Merrill Lynch.
Mr. Kaneene holds a Bachelor's degree in Economics from Princeton University.