Trond Rokholt, Managing Director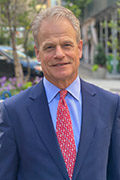 Trond Rokholt is a Managing Director at NY Green Bank on the Investment and Portfolio Management Team. He is responsible for investing NY Green Bank's capital in clean and sustainable energy projects in the State of New York, and he manages a portfolio of investments across various renewable energy asset classes.
Trond has more than 30 years of experience in providing corporate and project finance, M&A advisory and restructuring services to the renewable and conventional energy, and the maritime transportation sectors. Prior to joining NY Green Bank, Trond served as a managing director in the investment banking arm of DVB Bank SE focused on capital raising and M&A for transportation and energy clients globally. Trond has been a senior member of the maritime transportation and energy teams at Pareto Securities, Jefferies, Fortis Capital and BancBoston Robertson Stephens. Trond began his banking career specializing in shipping and oil & gas at ING Bank and Manufacturers Hanover Trust in New York.
Trond holds an MBA in finance from McCombs School of Business at the University of Texas and B.S. in finance from University of Utah.