Will Martin, Director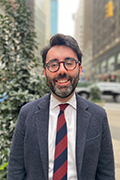 Will Martin is Director of Legal and Regulatory Affairs at NY Green Bank, where he provides legal advice and counsel regarding transactions, operations, regulatory issues, and general corporate affairs.

Prior to joining NY Green Bank, Mr. Martin served as Deputy General Counsel at the New York City Department of Housing Preservation and Development, where he managed a team of lawyers and support professionals with responsibility for advising on legal matters relating to the City's affordable housing development program, including construction and permanent financings, property sales, land use and other pre-development matters, asset management, and legislative and policy matters. Under Mr. Martin's leadership, the team played a key role across hundreds of transactions in meeting New York City's goal of facilitating the new construction or preservation of more than 200,000 units of affordable housing during the de Blasio administration. Mr. Martin has also served as an Assistant General Counsel with the New York City Housing Development Corporation, one of the nation's leading issuers of municipal bonds for multifamily affordable housing projects. Earlier in his career, he was an associate in the banking practice at Cravath, Swaine & Moore, LLP.

Mr. Martin is a graduate of Harvard College and Harvard Law School.