Zack Montebell, Vice President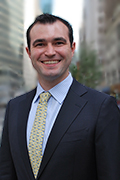 Zack Montebell is a Vice President and Head of NY Green Bank's Investment & Portfolio Administration group. Mr. Montebell provides support to all day-to-day business and operations activities, with a particular focus on the calculation, measuring, reporting and monitoring of the energy, environment and economic impact of NY Green Bank's portfolio.
Prior to joining NY Green Bank, Mr. Montebell worked for Viridity Energy Solutions for three years. He was a Project Analyst for energy storage and demand response projects located in both the United States and Canada. During his last two years with the company he was a member of teams that received board approval for over 60 MWh of energy storage projects. Earlier in his tenure at Viridity, Mr. Montebell worked as an Operations and Settlements Analyst supporting the development of internal reporting tools. While at Viridty, Mr. Montebell attended multiple ISO trainings and courses, gaining significant insight into deregulated energy markets.
Mr. Montebell holds a bachelor's degree in Chemistry with a minor in Finance from The College of William and Mary. He was a member of the varsity soccer team and remains an avid Tribe supporter.