Community Distributed Generation
In 2015, the New York Public Service Commission issued a community distributed generation (CDG) order, creating a mechanism by which utility customers could subscribe to solar projects in their area and participate in the benefits of clean energy without the need for onsite solar generation, such as on their roof. The utility ascribes value to the energy produced by CDG projects, pays a portion of that value to the developer, and passes the rest of the value along to subscribers in the form of reduced utility bills.
Today, New York is the leading community solar market in the nation, with over one gigawatt of capacity installed. Mobilizing the private capital needed to support this market has required getting conventional lenders comfortable with a novel business model and a complex regulatory framework, including the Value of Distributed Energy Resources (VDER) methodology. By completing some of the earliest community solar transactions in the State, we created precedents and led the way for commercial lenders to follow.
From our first investment in community solar, providing a product that was virtually unheard of among private lenders, to today when competitively priced private capital is readily available for these projects, we have played a pivotal role in scaling New York's community solar financing market.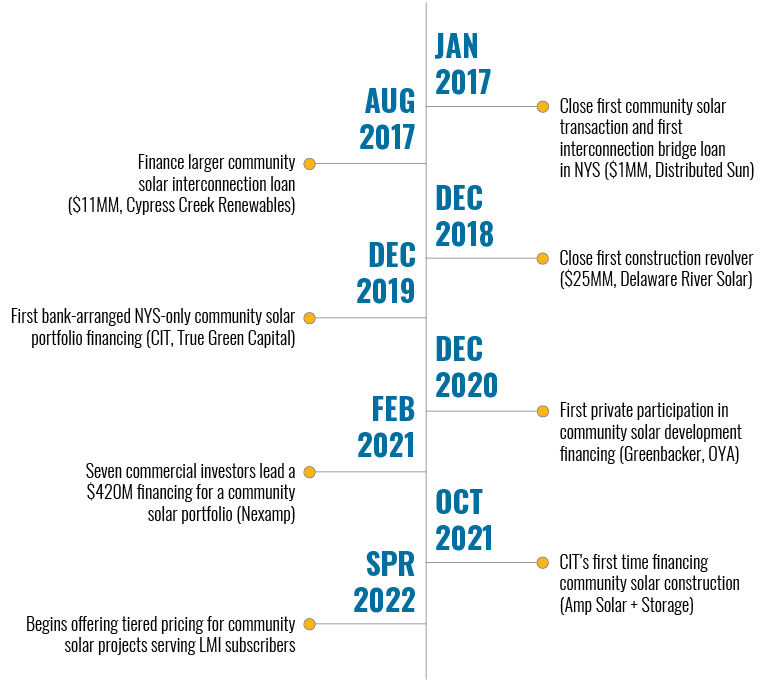 CDG Resources