Kim Leinwand Erle, Managing Director, Strategy, Impact & Investor Relations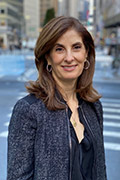 Kim Leinwand Erle, LEED AP, oversees Strategy, Impact & Investor Relations for NY Green Bank. Ms. Erle is an accredited sustainability professional, and creative problem solver with extensive operational execution and business strategy experience, and a bias toward using performance measurement/metrics to drive change.
Prior to joining NY Green Bank, Ms. Erle worked as an independent strategy consultant providing thought leadership to senior executives in business strategy and organizational change. Previously, Ms. Erle was a Portfolio Manager of Deutsche Bank's RREEF Retrofit Partners fund, seeking to deploy investor capital in deep energy retrofit projects for commercial, MUSH and multi-family property owners. As Chief Operating Officer of Trajectory Asset Management, Ms. Erle was responsible for business development, investor relations and firm governance. Ms. Erle was a Partner at Mitchell Madison Group, a global consultancy, where she was a leader in the Financial Institutions practice.
Ms. Erle earned a Bachelor of Science in Operations Research & Industrial Engineering from Cornell University, a Master of Business Administration from Columbia Business School and a Master of Arts in Economics from Johns Hopkins University's Paul H. Nitze School of Advanced International Studies. She serves on the External Advisory Board for the Cornell Atkinson Center for Sustainability.